Nouveau pedigree hongrois pour les pumis
Par Joel pumi le mardi, décembre 10 2013, 15:17 - Lien permanent
Attention, les pedigree hongrois ont changés. Maintenant, ils se présentent comme ceci :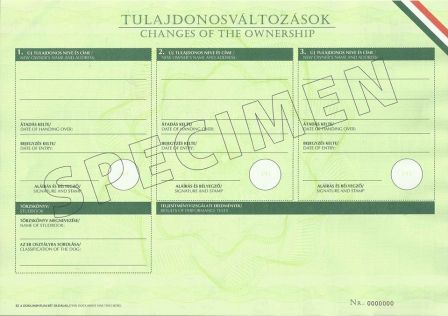 Pour info, la situation actuelle pour les pumis en Hongrie (traduction anglaise non officielle par Kutyamenedék "ahol boldogabbak az ebek") :
The PBE has joined the official "Hungarian Pumi Club" which president is József Arkosi. As of Nov 13, it has been agreed that the official pedigrees will be FCI and State approved and the breeding guidelines and the agreement btw the different parties will be sent to NEBIH(?). Once NEBIH sends back its approval, the processing of pedigrees will start immediately.
All rules and regulations will be posted as soon the relevant government agency approved the proposed guidelines.
All breeders with current litters temporarily should use forms to register their litters that are available at http://kennelclub.hu/ (follow link "Egyesület megjelölés(Mikrochip beultetés folyamata)" Litter registration and proof of breeding processed online will be free for members and all new pedigrees will cost 2200HUF + handling 500HUF +postage. The Club has no plans to raise the price for generating income from the registrations.
For the near future :
All current rules and regulations to be updated along the new guidelines after official approval. This process is already in an advanced stage.
Since the Hungarian Pumi Club (Magyar Pumi Klub) is the official legal organization that is solely responsible for all Pumi breed related issues, such as exhibitions, breeders shows, performance events, issuing pedigrees it is recommended for all to join the MPK to establish unity (and some standard - I guess -my notes)
Membership combined with MEOE-membership will be 9000HUF if one already has the MEOE card than the fee is 3000HUF less (if I understood correctly) MEOE card will give access to all services provided by the various member organizations of the coalition.
About the PBE-s future, there will be an announcement later.

Official address of the HUNGARIAN Pumi Club is1035 Budapest Szél Utca 10.II/9

The mailing address is 2211Vasad II. Külterulet 105/b or info@pumiclub.eu (Arkosi József)

The web address currently is http://www.pumiclub.eu (this might change in the future)

All litter registrations have to be mailed to MEOESZ 1194 Budapest XIX kerület Hofherr Albert Utca 38-40 (only after all issues have been smoothed out)
All recording of litters, registrations etc. will be processed by MOESZ controlled by MPK.
MPK will start DNA database for the breed.
First breeders show will be held during the FeHoVa 4-day conformation show (should be listed somewhere )
All future events and shows are in the process of planning and coordinating of all other participating parties.


Árkosi József